From Zillow
The U.S. housing market is hot, with more than half (52.6 percent) of all homes nationwide worth as much or more than they were at the peak of the national housing boom in April 2007.
Some markets, though, have proven hotter than others – kept at a boil by healthy income growth, abundant job opportunities and above-average housing appreciation.
It's largely those markets that will continue to be hot in 2018. San Jose, Calif., tops the list of hottest markets for 2018. Home values in the Silicon Valley hub gained 17.4 percent over the past year – the fastest growth among the 50 largest metro areas – and it tops Zillow's list of hot markets for 2018, as high-paying tech jobs continue to keep pace with climbing housing costs.
San Jose's median home value of $1.13 million is expected to grow by 8.9 percent this year, while its population and labor market remain robust. Glassdoor estimates that San Jose has 0.036 job openings per person – the highest rate among large U.S. metros. It's also the only market with a median household income above $100,000 – at $110,040.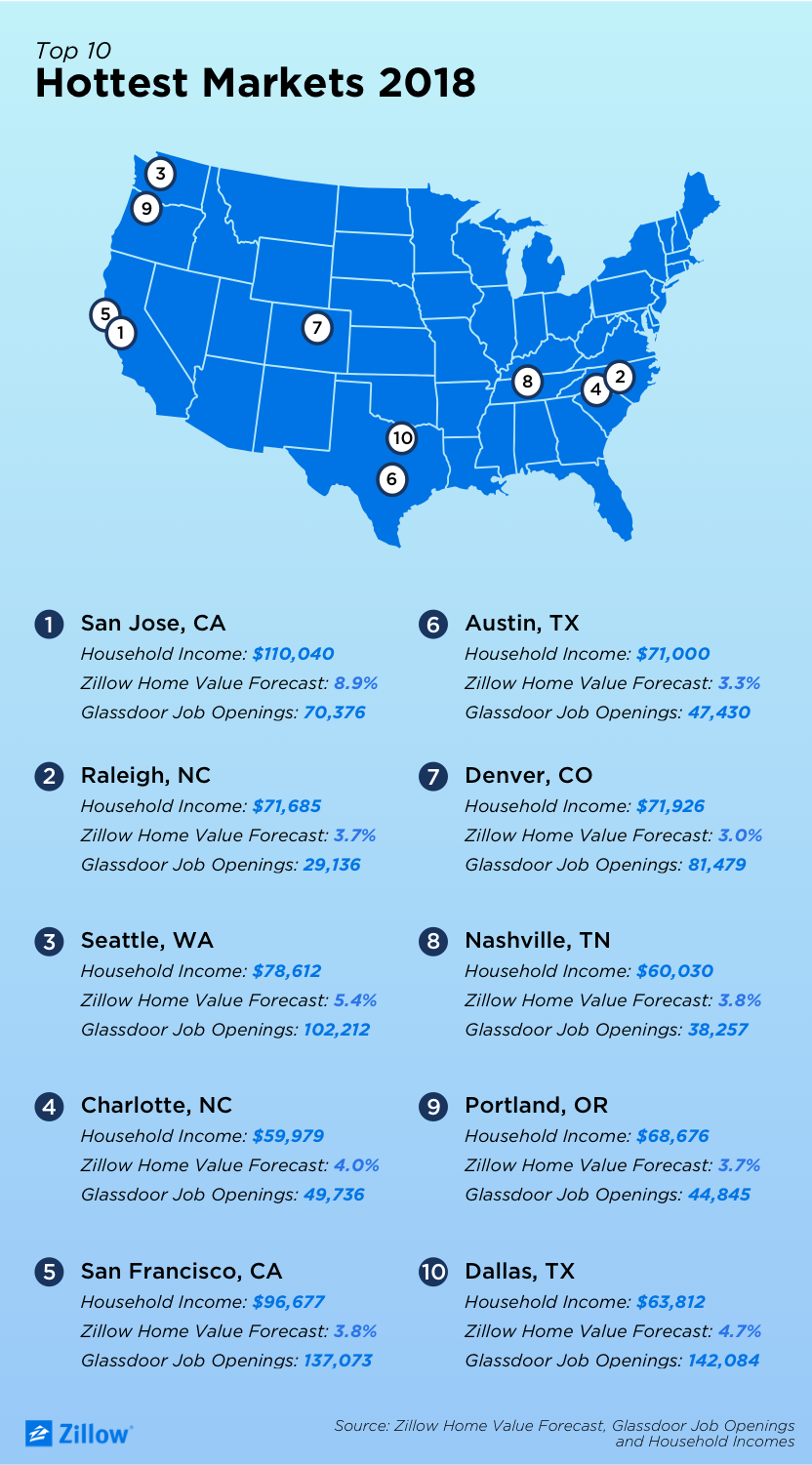 Zillow ranks two increasingly hot North Carolina markets – Raleigh and Charlotte – second and fourth on its list for 2018. Both areas boast strong income and population growth, as fast-growing Research Triangle anchor Raleigh becomes better known for innovations outside its life sciences base and Bank of America headquarters Charlotte builds on its reputation as a financial center.
Tech hubs Seattle and San Francisco round out the top five at No. 3 and No. 5, respectively.
The top 10 also includes Nashville, Denver and Austin – which have the lowest unemployment rates among large metros, even as Austin's population grows faster than other major metros (at 2.8 percent between 2015 and 2016).
Housing markets that will continue to face challenges in 2018 include former industrial giants Cleveland, Buffalo, N.Y. and Milwaukee. The population of all three metros is falling, and unemployment in Cleveland is 6.2 percent, well above the historically low national rate of 4.1 percent.
Zillow also anticipates cooler fortunes for housing in Hartford, Conn., where the median home value is expected to gain 1.2 percent this year – in an area where only 5.7 percent of homes are at or above their housing bubble peak.
Methodology
Zillow scaled six variables for the 50 largest U.S. metros and combined them to form a "hotness" score. Here are the variables:
Zillow's Home Value and Rent Forecast, which forecasts the change in the Zillow Home Value Index (median home values) and Zillow Rent Index (median estimated rents) over the next 12 months
Income and population growth using ACS 2015 and 2016 one-year estimates.
Current unemployment rates using Moody's Analytics estimates from the Bureau of Labor Statistics' Local Area Unemployment Statistics.
Number of job openings per person using data from Glassdoor.