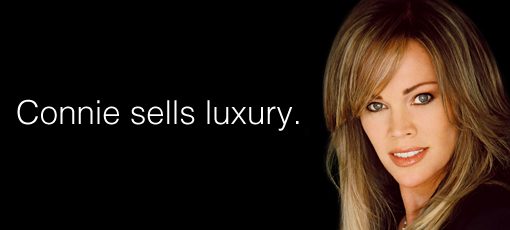 Recognition
In these uncertain times, people are looking for knowledgeable and trustworthy experts to advise and guide them. In the real estate world, Connie De Groot is that expert. In response to Connie's tireless work ethic, her ability to quickly produce positive results, and her intense knowledge of market conditions and trends both locally and nationally, Connie is often called to speak on TV or to provide comment. Her achievements have also been recognized by many top corporate officials in her industry as well as a number of national and international media outlets.
Certificates & Awards:
Certified Negotiations Expert (a certification held by fewer than 3% of Realtors nationwide)
Broker Associate, Nourmand & Associates
Coldwell Banker International President's Elite Award; Top Producer in Coldwell Banker's #1 Office in the World
Special Recognition from Jim Gillespie, President and CEO, Coldwell Banker Real Estate Corporation
Special Recognition from Betty Graham, President and COO, Coldwell Banker Greater Los Angeles and Orange County
Member of National Association of Realtors & Beverly Hills Board of Realtors
Licensed Realtor & Broker
National TV Real Estate Correspondent since 2007
Connie has never had a listing fall out of escrow – 100% close rate once property is in escrow
Connie, I very much enjoyed your video (Real Estate Confidential)… I believe you upheld the highest principles of ethics in our business in the manner that you addressed the issues at hand with your clients. Thank you for making Coldwell Banker look good. All best wishes to you, Connie. Keep up the good work.
Betty Graham
Once in a while someone special appears in this business, and her name is Connie DeGroot. She has the ability to create enthusiasm, energy, and excitement about listings like none other in this business. Her work ethic is of the highest caliber, with total dedication to her clients that is unparalleled in this business.
Stan Richman